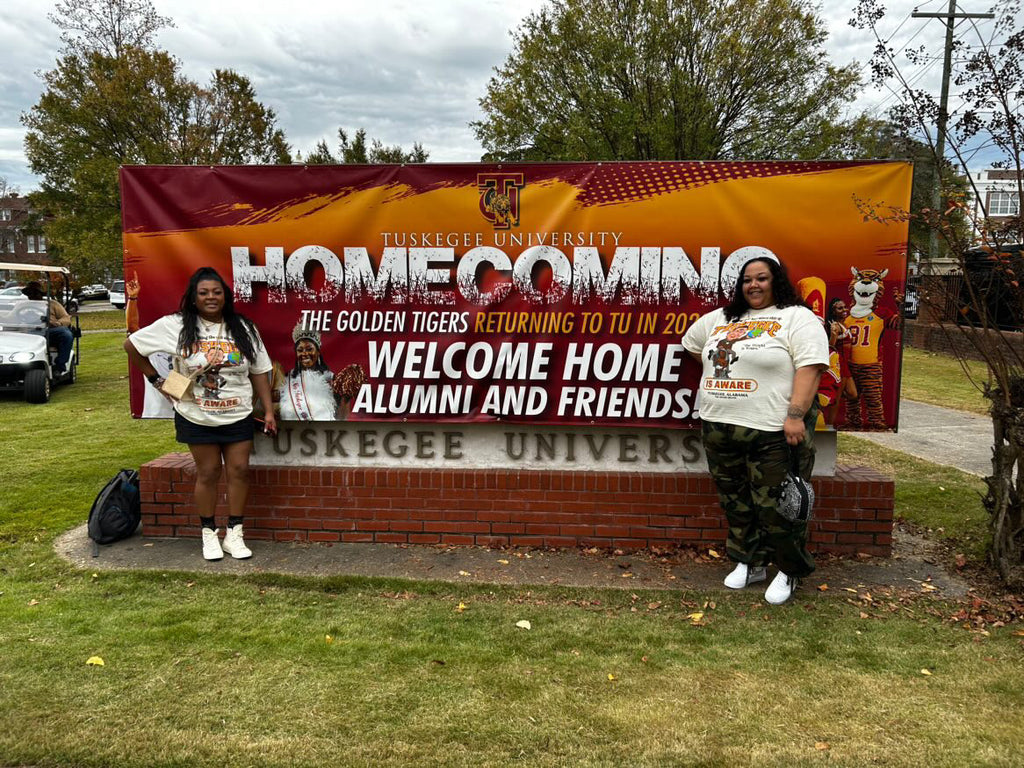 For the last stop on our HBCU tour we had to bring it home to Mother Tuskegee!
With 2 out of 3 of our leadership team being Tuskegee graduates we knew it would be a homecoming to remember. And it was!
The team met up in ATL and hit the Alumni party at The Bank to kick off the festivities. The energy was high and you could feel it as soon as you got in the parking lot. Everyone was excited to see each other and catch a vibe inside. We partied all night even though we knew we would pay for it in the morning. We aren't as young as we used to be!
The next morning we hit the road to Tuskegee Alabama and after a smooth ride we pulled up on campus and set up on the Ave. We found a spot right in the center of the Ave, it was almost like it was waiting for us. After a couple of minutes we were set up and ready to get it going. The tent was super active and before the day was done we sold out of our exclusive Tuskegee is Aware tee! The tee was a hit not only with the younger crowd but also the older folks too!
Day 2 we found a not so secure spot on the lawn of Logan Hall. A few vendors told us that the fire department wanted the area clear but we trusted the divine guidance of the whole trip and decided to take a chance and set up shop (111 energy).  Not only did we get the okay to stay there, it ended up being the perfect spot for everyone to see us! So many people came to our tent looking for the exclusive TU tee, and were disappointed it was sold out but joined our emailing list for the restock update (available now!!)  It was so dope to connect with old friends as well as add new people to the tribe. There was so much going on from the music to the vendors to the band and crowd that it was almost too much to take in at once. Now that the homecoming numbers are coming in you can see that TU had one of the best homecomings this year. It was one for the books! 

Look through some of these pics to get a feel of the weekend. Official content is live on our IG page!
 TU IS AWARE 👁
Continue reading