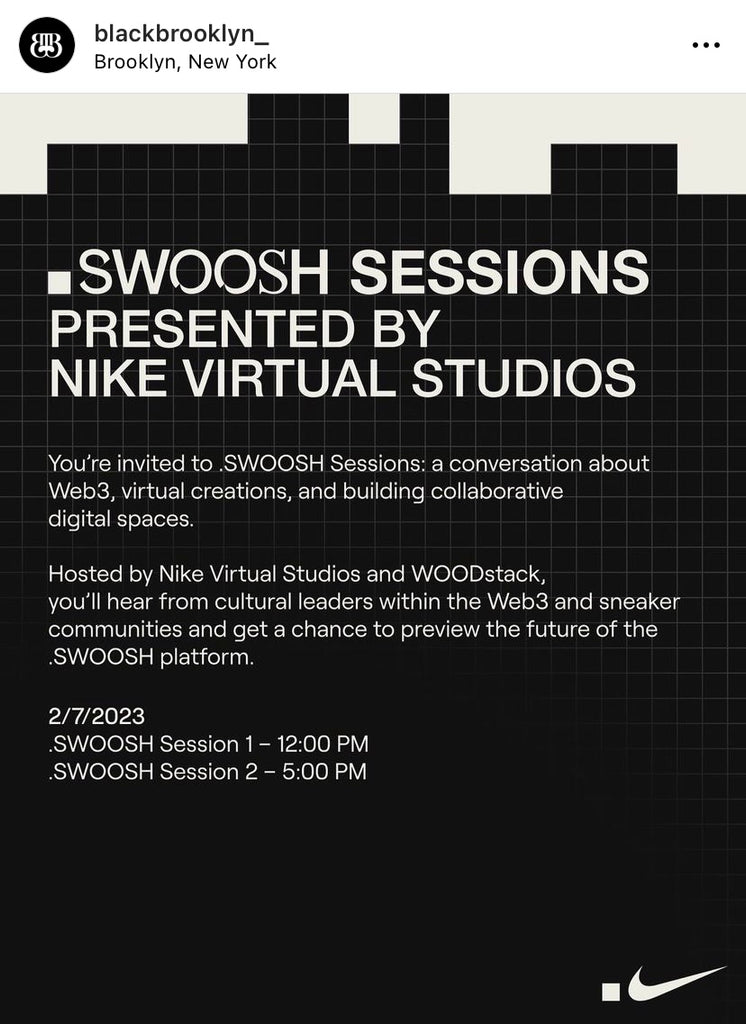 Our people over at Black Brooklyn invited us to a dotSwoosh event at WOODstack on Flatbush Ave to be some of the first people to get information on how Nike is rolling out their Web3 initiatives. It was a very informative session with the focus being around co-creation, community, and making sure up and coming artists are paid for their contributions to sneaker and streetwear culture.
  Masooma and Nik did a great job facilitating the conversation, the audience had a lot of questions and concerns about how Nike intends to use Web3. The potential with Web3 is limitless and being at the event reminded us of the many ways we can integrate this technology into our business as well as where the opportunities are for partnerships and collabs.
Panelists:
Masooma Ali
Nik Rupp
Jasmine Gao
Nicole Chow
  Here's a few notes we took on how Nike plans to move going forward in this new space. If you see something that aligns with you, hit em up!
Signature collections

Virtual drops

Athletes, creators, and collections + storefronts

Immersive experiences IRL
  As we go more and more into this unchartered territory it is critical to remember that autonomy and ownership are of the highest importance. When working with brands make sure you do your homework and ask questions! Shout to Nike for giving us an inside glimpse of their Web3 plans and for being intentional about working with all the dope creators that make streetwear and sneaker culture what it is!
Stay aware 👁
Continue reading